Enhancing fruit production with precision pollination in the soft fruit sector – Dyson Farming
Dyson Farming's circular farming system is in its new 15-acre glasshouse site in Carrington, Lincolnshire. It supports the advancement of…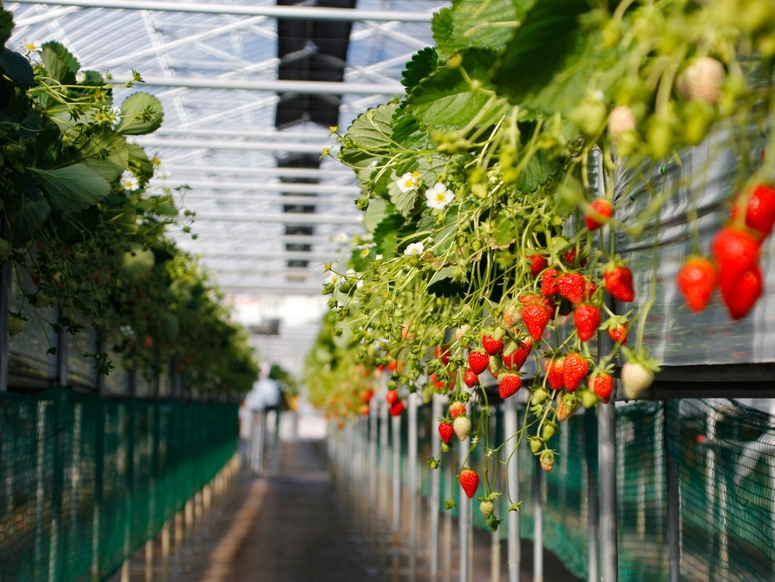 Dyson Farming's circular farming system is in its new 15-acre glasshouse site in Carrington, Lincolnshire. It supports the advancement of high-tech, sustainable farming in the UK, avoiding unnecessary food miles associated with the importation of strawberries out of season. Powered by renewable electricity and surplus heat from Dyson Farming's adjacent anaerobic digester, the giant glasshouse is 424m long, with 832 rows of strawberry plants, or 700,000 in total, which produce 750 tonnes of strawberries each year for British consumers.
Dyson Farming relies on pollination as an integral part of its strawberry production. Increased pollination produces larger and better-looking strawberries. To deliver pollination within controlled environments, strawberry growers often rely on introducing imported bumblebees. Bumblebees are effective pollinators and will transfer pollen from plant to plant, so supporting the grower in obtaining high yields of large, shiny, more saleable strawberries. However, maximising the performance of bumblebees to ensure good pollination performance is not an easy task. There has been very little research to determine how best to manage bumblebees within a controlled environment, for example, where to place bee boxes and how to extend the colony's lifespan to reduce the costs associated with replacing bees.
Dyson Farming met AgriSound at the annual REAP (Realising Economic Agricultural Potential) conference in 2021 and discussions begun about how further research could help find a solution. AgriSound partnered with Dyson Farming to investigate how its new latest Polly TM system could be used to support precision pollination. Polly TM is a low-cost sensor that uses advanced sound analysis techniques to listen for the sound of pollinators 24/7 and is able to automate pollinator abundance monitoring as a larger scale, more efficient and much less labour-intensive alternative to manual observations and traditional ecological sampling techniques. It was agreed Polly TM devices would be deployed within the glasshouse to support Dyson Farming in refining its pollinator management strategy. Dyson Farming had expertise in bumblebee management but wanted to maximise bumblebee health and welfare using a data-led approach. By investing in the project, it was hoped that crop pollination could be enhanced, leading to increased plant yields.
In March 2022, AgriSound deployed devices into the glasshouse in Lincolnshire in alongside additional devices in neighbouring fields. It was agreed the project would run until March 2025 with the aim of achieving a 10% reduction in bumblebee spend and discovering new data to support bee management for optimal pollination. Early data collected by Polly TM almost immediately yielded new insights into bumblebee behaviour and activity within the glasshouses at Dyson. Initial data showed variability between bumblebee colonies, suggesting that placements of boxes might need to change to maximise the impact that the bees could have on pollination. It was decided that this would need to be explored in more detail over the following months as the project progressed.
Casey Woodward, Founder & CEO of AgriSound, said:
"This three-year project is still in the early stages of discovery, so we are pleased that the initial findings are already making an impact on Dyson's strategy. Whereas the data will help Dyson Farming increase its strawberry yield, we are very pleased that bumblebee welfare is also at the heart of this project."
Edward Ford, Technical Agronomist of Dyson Farming, said:
"AgriSound spent invaluable time scoping the project with us to get an in-depth understanding of our aims. They have developed a research system that is already showing real promise in its ability to help us to achieve our business goals and could make an impact on our industry for many years to come."