M&S teams up with AgriSound to boost pollinator activity on British Farms
M&S and AgriSound teaming up on in-field sensor trial to help farmers with pollinator management and improve crop yields Decline…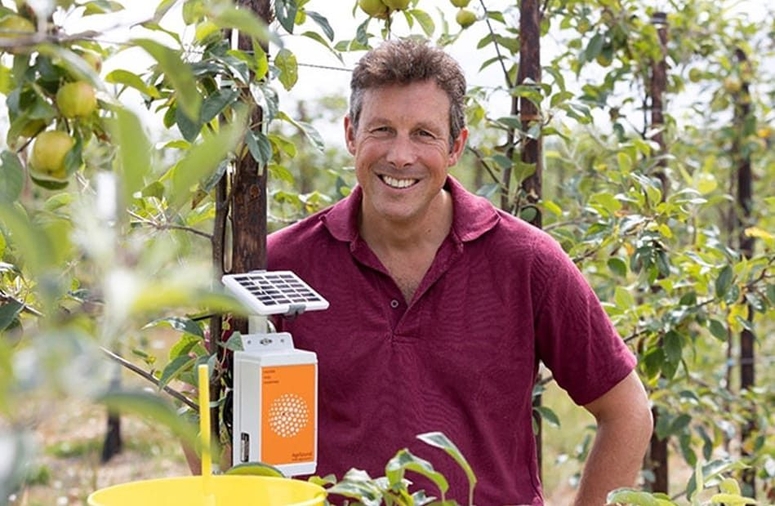 M&S and

AgriSound

teaming up on in-field sensor trial to help farmers with pollinator management and improve crop yields

Decline in bees and other pollinators could see potential loss of 70% of food crops

Collaboration is part of M&S' five-year Farming with Nature programme to help farmers address environmental challenges and protect biodiversity
Today (29th April 2022), M&S announces a three-year collaboration with agri-tech start up AgriSound, designed to help farmers better manage pollinators and increase crop yields. 
The collaboration will see two M&S Select Farms, Plumford in Kent and G's Growers in Cambridgeshire, install in-field sensors for three years, allowing them to track the number of pollinators visiting their farm in real-time and target specific interventions for improving numbers. 
Bees and other pollinators are crucial for the growing of fruit and vegetables, estimated to contribute around £690m to the UK economy each year. Pollination also encourages natural biodiversity, helping to reduce carbon and ensure food is nutrient rich. 
AgriSound are biodiversity experts, based in York, that have developed specialist listening devices, which combine acoustic technology and environmental sensors to monitor the density of bee and wider insect populations remotely. The devices collect and send data via mobile data, with results available via a web app allowing users to monitor the insect activity via a smartphone.
At Plumford in Kent, the sensors will be located in a new orchard, monitoring the effectiveness of different groupings of wildflowers in attracting pollinators. Meanwhile, G's Growers in Cambridgeshire will be placing the sensors in a range of different habitats, such as hedgerows and woodland edges, to see which are the most valuable in attracting bees and other pollinators. Learnings will be shared with other farms and the wider industry.
The collaboration is part of M&S five-year Farming with Nature programme to support its Select Farmers to become more resilient to environmental challenges spanning climate change, biodiversity, soil health and water usage. To deliver the programme, M&S has partnered with specialist industry partners including LEAF (Linking Environment and Farming), the Game & Wildlife Conservation Trust, The Wildlife Trusts, the Farming and Wildlife Advisory Group (FWAG) and FERA.
M&S' latest Family Matters Index revealed that the environment is the top concern for UK families, with 65% concerned about the impact on future generations. Last year, the retailer reset its sustainability programme Plan A, to have an unrelenting focus on becoming a fully net zero business by 2040 and to support customers to make more sustainable choices.
M&S Food XXXX, XXXX, said: 
"At M&S, we're committed to finding innovative ways to help farmers become more resilient to environmental challenges. Pollinators play a vital role in the farming industry and by teaming up with AgriSound, we can provide farmers with the data and insights needed to build pollinator numbers and continue producing high quality fruit and vegetables. This trial is one element of our ambitious Farming with Nature programme which is helping to build a sustainable future for farming."
Casey Woodward, Founder and CEO of AgriSound, said: 
"We're delighted to team up with M&S and install some of our PollyTM devices across two innovative producer sites. The development of PollyTM has taken years of dedicated research and it is really exciting to see our technology beginning to deliver unique insights into pollinator activity. I look forward to working closely with the teams at M&S, Plumford and G's Growers to help protect local pollinator communities."
ENDS
Notes to editors: 
For further images or spokespeople please email the Corporate PR team on [email protected] or call 020 8718 1919. 
Family Matters Index Report
The quarterly M&S Family Matters Index is a continuing journey to understand what really matters to families in the UK, today and in the years to come. Produced quarterly, reports explore the priorities, challenges, ambitions and plans of 5,000 UK families.
The most recent report can be viewed in full here.
About AgriSound
AgriSound Limited was launched in January 2020 and is based in York. The company was foundered by Casey Woodward, an experienced agri-tech innovation expert, with an aim to bring modern technology to insect monitoring. AgriSound has created special smart sensors and listening devices to monitor insects across a range of environments including beekeeping, farming, educational and corporate sites, with the aim of deploying sensors across the planet to transform how people monitor insect activity and make a positive impact on biodiversity. 
Since its establishment, AgriSound has partnered with a number of companies and projects, including Dyson Farming, Innocent Drinks, National Trust Scotland and Royal Horticultural Society to spread their message worldwide and is continually looking for opportunities to branch out further.
For more information, visit the AgriSound website: https://www.agrisound.io/ 
Instagram: https://www.instagram.com/agrisoundtech/ 
Twitter: https://twitter.com/AgriSoundTech