New AI algorithm will hopefully save 'hopping' bee from extinction
A project to protect a unique 'hopping' bee from extinction is underway in Yorkshire.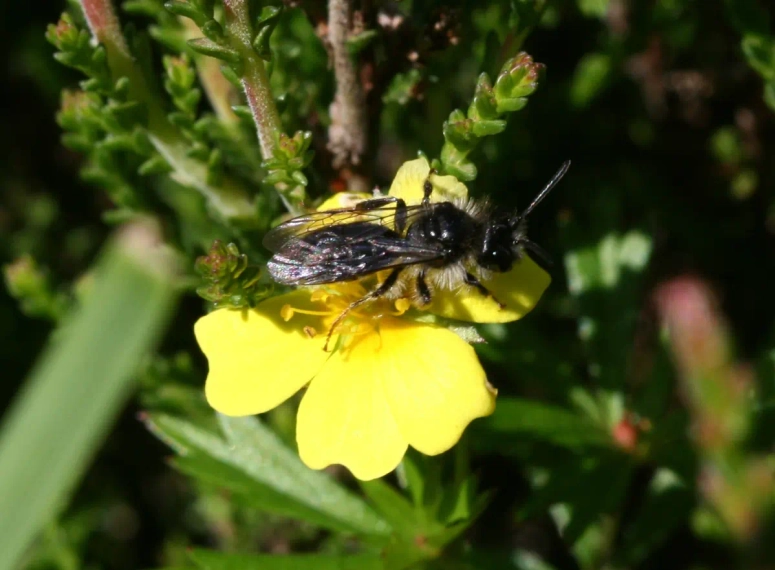 A project to protect a unique 'hopping' bee from extinction is underway in Yorkshire. The species in question has declined in number by more than 50% in recent years.
The collaboration between The Species Recovery Trust and Agritech firm AgriSound uses a newly developed bespoke AI-driven algorithm to detect and protect a nationally rare and declining species of mining bee that has a 'hopping' flight pattern when collecting food.
The small, black, solitary Tormentil mining bee which 'hops' as it flies between flowers is codependent on just a single type of flower – Tormentil. Agritech says this quirky bee could be saved from extinction thanks to the groundbreaking new algorithm which uses the latest machine learning technology.
The Species Recovery Trust's project to monitor and protect the rare Tormentil mining bee is focused on the York Heathlands and North Yorkshire Moors. This species of bee has been in drastic decline over recent years and has been lost from 50% of its former sites since 1970s.
The Tormentil mining bees' demise is being hastened by the loss of habitats rich in Tormentil plants and sandy bare ground areas where it nests. Loss of heath and moorland areas to agriculture, overgrazing and scrub encroachment has resulted in a decline of tall Tormentil plants and sandy areas, restricting the bee to a small number of sites, and therefore the Trust has found it very hard to reliably monitor.
The Trust turned to agritech start-up, AgriSound to come on board with the project to develop a bespoke and groundbreaking algorithm, to integrate with their unique pollinator-tracking technology, in order to improve and quantify efforts to monitor and save this bee.
Using AgriSound's 'Polly' and its new, specifically developed algorithm, the resulting data is allowing the health and activity of the Tormentil mining bee to be accurately monitored enabling the Species Recovery Trust to deploy the most appropriate interventions and care for this rare and endangered species of bee.
Using bioacoustics is a highly novel approach to protecting and conserving insects, but one AgriSound is expert at and is able to develop species specific algorithms for.
Its highly successful Polly bioacoustic listening devices are increasingly being used in commercial agriculture and by food producers as well across spaces utilising biodiversity conservation. They are revolutionising commercial pollination, helping increase crop yield and providing the data crucial, not only to help protect biodiversity, but also to allow organisations to demonstrate positive impacts of actions for ESG reporting metrics.
To track a species such as the Tormentil mining bee, AgriSound's approach was to catch and record the bee, using the latest AI (machine learning) to learn from the data to develop a bioacoustic algorithm that can detect the bee. Because of the bee's flight being much more of an extremely short 'hop' and its tendency mine into the ground, as befits its name, the team had to make sure the bee was captured safely without allowing it to chew through nets or boxes. The bee also makes a very short noise when it hop flies, making them incredibly hard to record and accurately measure.
Once AgriSound's scientists had recorded the tiny snippets of 'hopping' sounds, these were fed into to its AI machine learning programme, which learnt and now understands how it sounds and it was able to create the algorithm that will help the Species Recovery Trust track and gather the necessary data on the bees in the wild.
Access to this data is what will allow the Species Recovery Trust to understand which areas are best to protect and develop, in order to help protect populations and boost local biodiversity.
Currently, just under thirty Pollys will be distributed across the York Heathlands and North Yorkshire Moors in a bid to track these insects.
Casey Woodward, founder, and CEO of AgriSound, said: "AgriSound is working, more than ever, on projects that help detect and protect rare and endangered species, and with AI advances we are increasingly developing new, bespoke algorithms to help detect and protect a growing list of species, such as the Tormentil mining bee, that are often in decline, and can benefit from intervention the most.
"Originally, we developed our Polly insect monitoring device to detect bee activity around crops and other pieces of land to provide farmers and food producers with the knowledge to increase crop pollination. We're proud to be continually developing our AI technology to provide important information for biodiversity development, provide crucial data to help companies meet ESG regulations and now also develop unique algorithms for species protection too."
Vicky Wilkins from the Species Recovery Trust said about the project: "The Tormentil mining bee, a 'national conservation priority species' has been lost from over half of its habitat since 1970s. Using this new technology we hope will be a game changer in helping us improve identification of areas for habitat creation, as well as restoring existing sites. This will mean we can work to better provide the right habitat for and ultimately save these charismatic little bees from extinction."
Original publication in Envirotec magazine:
New AI algorithm will hopefully save 'hopping' bee from extinction